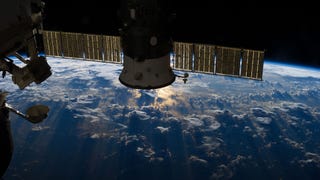 Today is a great hot summer day for a terrific space photo to cool us down a bit. Those battering storm clouds over the Atlantic surely look awesome in the grazing sunlight, framed by the almost transparent solar panels of the Progress 50 freighter spacecraft and the Soyuz 35 (TMA-09M) spacecraft (on the left). NASA…
Look at this awesome photo shot by amateur astronomer Mariano Ribas . That bright thingy on the right is the International Space Station transiting between the Earth and the Moon. Simply amazing. This is how it was made:
In this picture, ESA astronaut Luca Parmitano is seen preparing for a simulated spacewalk and is wearing a training version of his Extravehicular Mobility Unit spacesuit. And he looks extremely badass, although he is a real space rookie.